Okay, I need to get something off my chest: All these "beat sheets" of mine really aren't beat sheets. While they certainly contain beats, and in a broad sense of the term, are…uh, beat sheets, they're really much more than that. I like to think of them as Story Maps.
Written analysis of film is a crucial step for any screenwriter. I've found no better way to learn the craft than breaking down my favorite films and discovering what makes them tick. If you've never completed analysis of a film and/or screenplay, I recommend using this method with your favorites. Get detailed. Put in the hours. You'll be glad you did.
The beat sheets in this section of SHT are based on Daniel P. Calvisi's Story Maps: How to Write a GREAT Screenplay. After reading a great number of books on screenwriting, Dan's Story Maps method helped bring it all together. With thorough commentary on concept and theme, his structure paradigm is easy to understand and apply. Story Maps is an insightful look at the craft of screenwriting, a must read for the aspiring screenwriter.
About the book: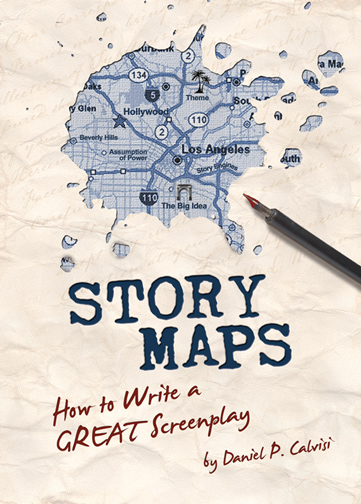 Learn the secrets to writing a GREAT screenplay from a major movie studio Story Analyst who will show you how to BLOW AWAY THE READER! Master the structure and principles used by 95% of commercial movies by studying detailed breakdowns, or "Story Maps," of several recent hit movies in all different genres, including The Dark Knight, The Wrestler, How to Lose a Guy in 10 Days, Drag Me To Hell and the classics As Good As It Gets and Sunset Boulevard.
The book cites examples from hundreds of films, several television series and includes samples from actual produced screenplays to show you HOW TO DO IT. The book provides detailed lessons on format, capturing voice and tone on the script page and developing great characters with powerful dialogue.
You can purchase Dan's book from Amazon.com or the iTunes Store.